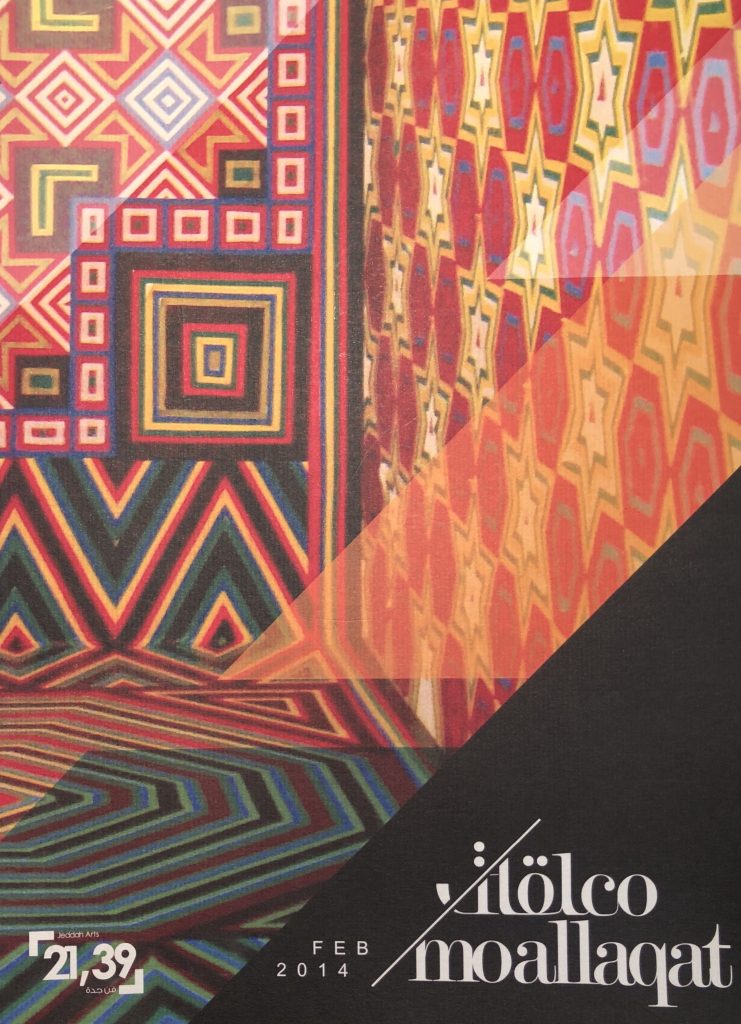 Adding this to the library today. A large folio publication for the central exhibition of the 21,39 Jeddah Arts Fair in 2014. With an introduction by Aya Alireza about the title and theme of the exhibition of Moallaqat, a term said to denote 'suspension' and used in reference to seven 'hanging poems,' which in pre-Islamic times may have been written in gold on Coptic linen and hung from the Kaaba in Mecca. Legend and science here seem not yet to have been fully disentangled. The publication has a short foreword by princess Jawaher bint Majed bin Abdulaziz, who chairs the organizing informal Saudi Arts Council, while Aya Alireza and Raneem Farsi curated the exhibition under the vision of Hamza Serafi, one of the two owners of Athr Gallery. It contains 32 excellent and large pictures and short biographies of the 20 artists participating in a total of 81 pages. Artists and artworks mentioned are listed below.
List of the artists and artworks in the publication
Ibrahim Abumsmar with Al-Qeblah (2013)
Shadia Alem with Sand Flower (2014) and My iCloud Heritage (2014)
Manal Aldowayan with The Tree of Guardians (2014)
Musaed Al-Hulis with Holy-Wood (2014)
Mahdi Al-Jeraibi with They were all here… (2000)
Nasser Al-Salem with An Adornment of Stars (2014) and
Indeed, All Things We Created With Predestination (2014)
Dania Al-Saleh with Ahwak (I adore you) (2014)
Jowhara Al-Saud with Negative 3 (2012) (Knot series)
Raeda Ashour with twice untitled (2009)
Abdulaziz Ashour with untitled (2013)
Dana Awartani with Orientalism (2010)
Taghgreed Al-Baghshi with I Waited For You, But You Did Not Come (2013)
Ayman Yossri Daydban with Close Ties (1998)
Dr. Effat Fadaag with Bequests (2014)
Mohammed Al-Khatib with Al-Jokhdar Entrance (2013)
Maha Malluh with Food for Thought 'Moallaqat' (2014)
Ahmed Mater with The Empty Land (2012)
Faisal Samra with Other Body No. 1 & 4 (1998)
Ghana Al-Rabea with Contemporary Jahiliyya (2013)
Saddek Wasil with Abjadi Letters (2014)
It may be noted that the older works by Daydban, Samra and Al-Jeraibi were on loan from the Almansouria Foundation. Most other works were by courtesy of the artist or of the artist and Athr Gallery. The publication is well designed and printed, but unfortunately it doesn't mention where and by whom.
In her introduction Aya Alireza mentions four sources for the theme of Moallaqat and I repeat them here as she did.
W.A. Clauston, Arabian Poetry
A.J. Arberry: The Seven Odes: The First Chapter in Arabic Literature
Charles Lyall. An Introduction to Ancient Arabic Poetry
Reynolds A. Nicholson, A Literary History of the Arabs.